Webcapital Named by Clutch Among Hungary's Top Software Developers for 2021
Webcapital
2021. June 04.
At Webcapital, our key goal is to help clients discover new technologies and tools and to enable them to use solutions tailored to their needs in creative, innovative, and efficient ways. We work with technologies that are proven and are widely recognized in the industry. We utilize test-driven development which gives the product a high degree of stability from the very beginning.
We plan and carry out the development process using the agile and scrum methodology paying close attention to project management and documentation. Our young team has extensive experience in the field of server-side and front-end web development. Our services include web development, operation projects, outsource, and onsite IT work. We cater to different industries such as retail, marketing, media, and telecommunications.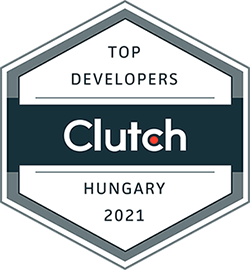 It has recently come to our attention that Clutch released its list of the top 20 in Hungary for software developers and our company is included in the list. If you're not familiar with Clutch, it's an established ratings and reviews platform based in Washington, DC, committed to helping small, mid-market, and enterprise businesses identify and connect with the service providers they need.
Clutch Leader Awards recognize companies by industry, service focus, and location and only the highest performing companies receive this award.
We are extremely proud of this recognition as this validates the hard work and dedication we provide in every project we tackle. We are also grateful to our clients for their continued support and trust. We are especially grateful to those who left us a review on our Clutch profile. Here's what they had to say about working with us:
"They were eager to understand our problems and worked with us to solve them even if that meant that the specification changed various times. " – Marketing Manager, Jobcapital
How can we help? If you're interested in any of our services, please send us a message.